Metal Roofing Systems Inc. has manufacturing facilities located in Stanley, North Carolina and Myrtle Beach, South Carolina along with our sales office in Kingsport, TN. We manufacture a variety of panel systems available in more than 30 stock colors. From System 1000, 1500, 2000, and 2500 options to multi-rib and tee panel systems, roofers and architects can choose from a wide variety in addition to trim, roofing details, gutter, and distribution materials. We provide customers with the high-quality products they need to provide a state of the art service. Our ultimate purpose is to make a customer's project a success. It is our number one mission to provide the products and support to our customers when and where they need them. To accomplish this goal, we know that we must be Faster. Smarter. Better. Period.

Metal Roofing Panel Options: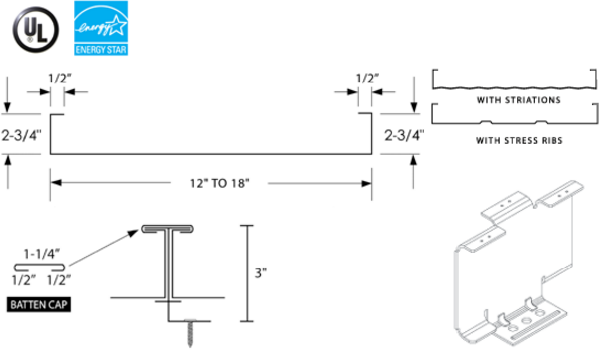 MRS System 3000
ASTM E1592, E1646, E1680 Tested
U.L. 580 Class 90 Certified
Ideal for Low Slope Conditions in Commercial Projects
Mechanical Locked to Ensure a Water-Tight, Integral Design
Can be Formed Using 22/24 Gauge Steel and .032/.040 Aluminum
Optional Sealant in Batten Cap
Panel design Accommodates Thermal Movement.
---

MRS System 2500
ASTM E1592, E1646, E1680 Tested
U.L. 580 Class 90 Certified
Ideal for Low Slope Conditions in Commercial or Residential Projects
Single or Double-Locked to Ensure a Water-Tight, Integral Design
Can be Formed Using 22/24 Gauge Steel and .032/.040 Aluminum
Optional Sealant in Femail Leg
Available in 2" Profile
---

MRS System 2000
ASTM E1592, E1646, E1680 Tested
U.L. 580 Class 90 Certified
Ideal for Larger Commercial Installations
Provides the Aesthetics of a Standing Seam System with an Unmatched Structural Design Capacity
Can be Applied Over Solid Substrate or Open Framing
Available in 22/24 Gauge Steel and .032/.040 Aluminum
---

MRS System 1500
Ideal for Low Slope Conditions in Commercial or Residential Applications
Can be Single or Double Locked to Ensure a Water-Tight, Integral Design
Available in 1" or 1 1/2" Profile
Mechanical Locked to Ensure a Water-Tight, Integral Design
Can be formed using 22/24 Gauge Steel, 16 oz Copper, and .032 Aluminum
---
MRS System 1000
Ideal for Light Commercial or Residential Applications
Snap-Lock Design Allows for Installation Efficiency and Water-Tight protection
Allows Application over Solid Substrate
Can be formed using 22/24 Gauge Steel, 16 oz Copper, and .032 Aluminum
---

MRS System Tee
Low Profile Design Ideal for Transitional Mansard and Fascia Applications
Non-Directional Panels Perfect for Challenging Projects
Available in 1" and 1 1/2" Heights
Radius Profile Available
Can be Formed using 22/24 Gauge Steel, 16 oz Copper, and .032 Aluminum
---
MRS System 5V
Low Profile design ideal for roofing, transitional mansard, and fascia applications
Can be formed using 22/24 gauge steel, and .032 aluminum
---
MRS Nailstrip
U.L. 90 rated
Can be formed using 22/24 gauge steel, and .032 aluminum
---
Click Below For Color Chart

Go Back